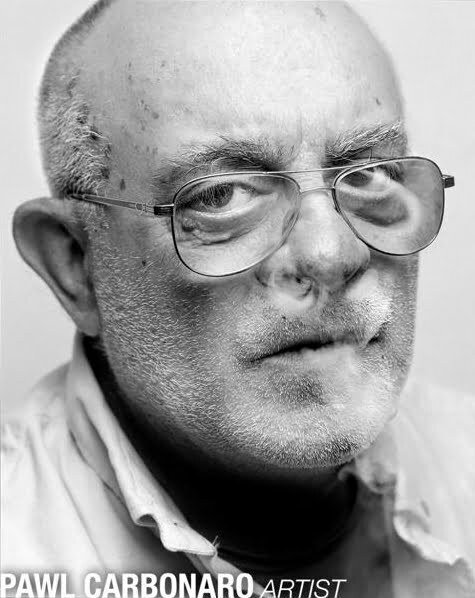 PAWL CARBONARO (b 1948) dedicated himself completely to art at age twenty five, after a short span of five years working in a bank. In 1974, he was awarded a four year scholarship by the Italian Government at the Accademia delle Belle Arti in Florence.
He has exhibited various times at the National Museum of Fine Arts, Galleria Fenici, Valletta and Galleria Gaulos, Victoria, Gozo. Between 1970 and 1979, he exhibited at the Biennale Internacional de Ibiza, Spain, the Third Biennale d'arte contemporanea Botticelli, Florence and the Centro di Cultura Mediterranea, Palermo, Italy.

In 1980, he attended a course furthering his studies in Etching, at the Santa Reparata Graphic Arts Centre in Florence. In 1982, he was invited to the " International Self-Portrait exhibition" at the Museo degli Uffizi, to commemorate its fourth century, later at the Galleria Spagnoli in Florence and twice at the " Grands et Jeunes d'aujourd'hui", Gran Palais, Paris, France. In the early nineties, he had solo shows at the Landesbank, Mannheim, Germany, and the Woburn Fine Arts Gallery, Woburn, UK.

In 1999, he launched his publication "Pawl Carbonaro -The Landscapes", with an exhibition at The Gallery in Tower Road, Sliema, Malta. Later, at Gallery 77, New Bond Str., London, the Palais des Nations, Geneva, Switzerland, and a Retrospective in the Bank of Valletta series.
In 2008, he collaborated with Austin Camilleri and Vince Briffa in Scent, an exhibition at St.John's Cavalier, Valletta. In November 2009, together with Austin Camilleri, he exhibited works in an exhibition at the Munchner Kunstlerhaus in Munich, organised purposely for the two artists.
Two years later, in November 2011, a solo exhibition for his landscapes entitled " Sud", was held at the Opus 64 Galerie, at Tigne, Sliema.
More recently, Pawl, together with a number of local artists, took part in the Biennale Internazionale di Opera d'arte su carta, entitled " Stemperando", showing in Torino, Cosenza and Rome in 2012.
In November 2013, Studio 104, in Valletta opened its doors for the first time, with an exhibition dedicated entirely to Pawl's abstract works, entitled " Voyager".
In June/July 2014, Pawl's abstracts were shown in a collective exhibition in Dar Brussels.
In 2015 & 2016, his works were exhibited in a collective & a personal exhibition respectively, titled Carart, in Lausanne Switzerland.
Pawl Carbonaro's art embraces intense yet considered emotion framed within a resolute exploration of the spatial, the chromatic and the organic. His work constantly  references the same medium that breathes its life, playfully wigwagging between gritty crests of variegated hessian, gestural brushstroke and flattened suspended space. 
Like the dark creative force of the Andalucian duende, Carbonaro's gesture signals an innate energetic instinct, a surge of power in search of an unwavering impression; one that may equally vent in exuberant crescendo or brooding tranquillity depending upon the sway of the artist's cathartic mechanism of self-inventory.
At such a distinguished age of creative maturity, Carbonaro's work continues to become more physical, his actions more hefty, even brutal at times. The once lyrical intimation of constructed space is replaced by one that cuts across expanses with immediate and menacing speed and force, as if, like the last remaining gasps of air wrenched out of a deep sea diver's lungs before resurfacing, the time window allocation for creative energy that spawns each delivery is menacingly becoming shorter and shorter. The artist's palette has also fallen victim to a similar fate and echoes a nostalgia of one that was more multifarious in earlier years.